Support Us to raise £30,000 for a home adaptation that will change Anya's life.
Hello everyone,
Thank you for taking the time to drop by our page and read about our miracle child, Anya. We hope you will be able to support us with a donation but if you can't please help spread awareness of Anya's story on your own social media pages……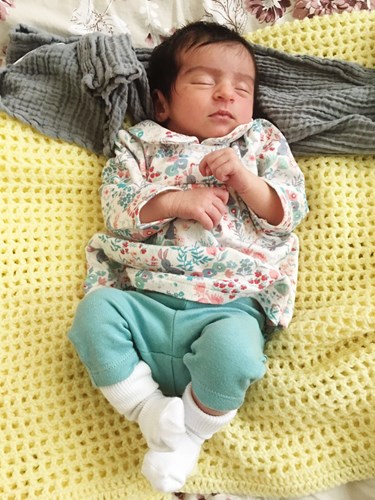 Anya Madeline, 5 was a much-longed-for first child. Never could we have imagined what was going to happen and how far away from the life we had imagined as a family our journey would be. Things started to change at 5 days old, from unusual twitching with no clear neurological cause to her having a seizure, lots of other neurological symptoms, and a rapid trip to A&E. It was terrifying. As parents, it's your worst fear to see your newborn in resus in A&E and not knowing what is happening to your child. It then looked like it wasn't an epileptic seizure but something else….
Full of relief we thought things might still be 'okay.' We lived in the hope it was all just a 'glitch.' We were so wrong. We could not have imagined what was going to happen to our precious daughter, and us, over the coming weeks, months, and years…. we were suddenly in and out of hospital and ambulances every few days. Her symptoms seemed to escalate. With every new medication we lived in the hope that it might help, but it didn't.
At 6 months old we got the diagnosis: 'Alternating Hemiplegia of Childhood (AHC)', which is a 1 in a million rare genetic) neurological condition.
There is no effective treatment. It causes physical and cognitive disabilities, and it is life-threatening. Many do not live to, or far into, adulthood. It is a rare complex epilepsy disorder which can present with any neurological symptom. Some people describe it as many different diseases in one as you can get symptoms from lots of different neurological diseases all in this condition. This makes it very overwhelming. Without warning, an 'episode' can develop, and you don't know if that will be a seizure, paralysis, painful muscle rigidity (dystonia), breathing difficulties etc. Every parent with this condition is always waiting for the next episode to start. Anya gets around 2 days a week without neurological symptoms if we are 'lucky'. The longest she has gone without an event has been two weeks, which has only happened once in her 5 years.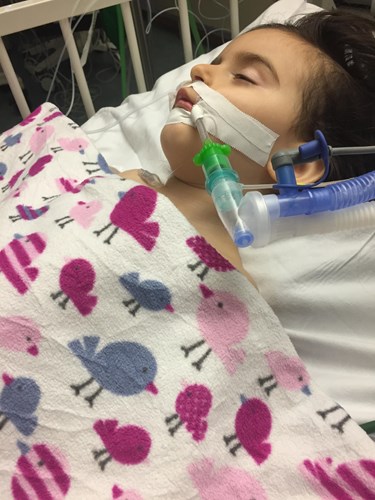 Sometimes getting excited about going to nursery can trigger her getting paralysed or develop dystonia. She loves nursery. Sometimes going outside if it's too windy or cold or hot can trigger her getting paralysed. She loves outdoors. All the things that little kids enjoy can also leave her in pain, paralysed, with dystonia or worse. Everything is a constant balance – trying to do things but minimising the risk to her. She is non-verbal so can't talk about her symptoms or what is happening. We have to watch her closely. She does have three words 'mama', 'dada', and 'baba': her world.
At 14 months old she started to get significant breathing difficulties during her episodes. We quickly learnt that for Anya, AHC can be deadly. The first time this happened we were so lucky we were near the hospital. She would have died otherwise.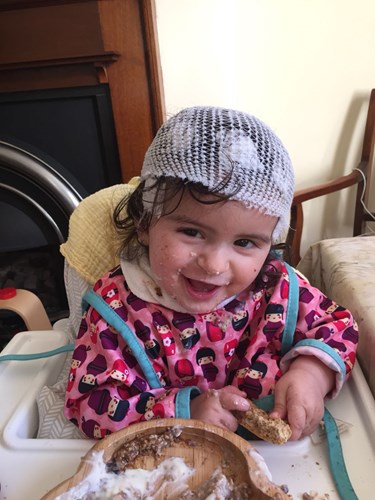 Alternating Hemiplegia of Childhood (AHC)
AHC is a "one in a million" disease. It is due to a chance, non-inherited mutation in DNA which chiefly affects our so-called "sodium pumps". All cells in our body rely on millions of these micromolecular ion pumps but they are particularly crucial for nerve cells. There is no cure for AHC.
It is ultra-rare (1 in a million) and she is the only child in Edinburgh with it and the only child with the genetic mutation for this condition in Scotland.
The only treatment for Anya is to try to manage the ever-changing mix of symptoms. We give extra medications rapidly as soon as her symptoms start. This has, over the last 2 years prevented her from needing Intensive Care, but it is exhausting, and we are on-call 24/7 without a break. She takes medications across the day – 22 interventions of medications in 24 hours on a 'good' day and more when she has neurological symptoms. She can't tolerate high medication doses, so we have to spread them throughout the day to reduce any side effects. As a family, we continue to support research and education in the hope that a treatment will come soon to improve her, and others with the condition, quality of life.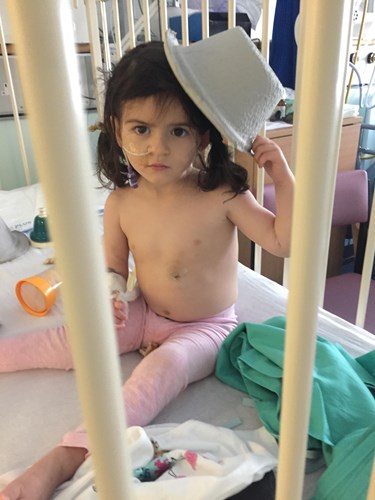 Through the sadness of having this condition, we have used our skills to help others by co-founding a UK charity, organising national and international conferences, and raising awareness of the condition.
Our plans and needs:
We are currently trying to extend our small 1930s house in Edinburgh to provide Anya with her own downstairs accessible bedroom and a wet room equipped with special facilities for wheelchair accessibility. Thankfully, some of the funding for Anya's bedroom will come from a city council grant (Disabled Facilities Grant, DFG) for adaptations. However, the funding for these adaptations via the DFG grant is limited to Anya's bedroom and wet room, and a ramp for front-door access. The DFG grant also cannot cover all of these costs, only 80%.
It also does not cover any of the other adaptations we need to do in the house to allow Anya to be part of our family in other rooms in the house. It also doesn't cover any access to the back garden for Anya which has been dangerous for her. In addition to this, we need to consider Anya's "dada" who has Multiple Sclerosis which is now progressive with damage in his spine meaning his foot also drops and he can trip easily and struggle to carry Anya, through the house.
Our situation and request:
Overall, we are needing to raise £30,000 to finish the project.

This is an incredibly unusual situation that we find ourselves in. We have only ever raised funds for research and others but find ourselves needing to ask for funds to help finish this work for Anya. Therefore, we would be forever grateful for any contribution that can make towards this target to improve Anya's quality of life in the coming years.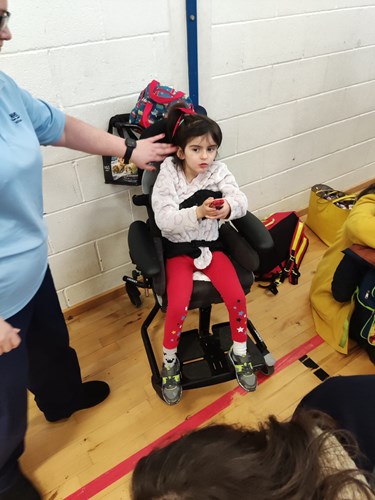 Anya's continuous care needs mean Katherine and Abhishek are only able to work part-time. However, our savings, together with within-family kind donations and loans, meant we have raised the funds for the extension building work which started at the end of 2022. It is ongoing, but we need to raise further funds to finish the work for things that are not covered. Additionally, costs of other essential things that needed to be fixed in the building process, which we hadn't anticipated in advance, diverted funds we hoped to save for some of the items below. Therefore, the items that are still needed, and that we need to raise funds for are:
Heating and cooling system.

Family bathroom

Flooring

Outstanding adaptation work not covered by our DFG grant from the council.

Painting of the house after adaptation

Storage space for medication prep/adaptive buggy and black-out blinds/curtains

Garden play surface
If anyone needs further details on the above, please don't hesitate to contact us.
Many thanks for your consideration of this appeal.
Yours sincerely
Abhishek and Katherine Behl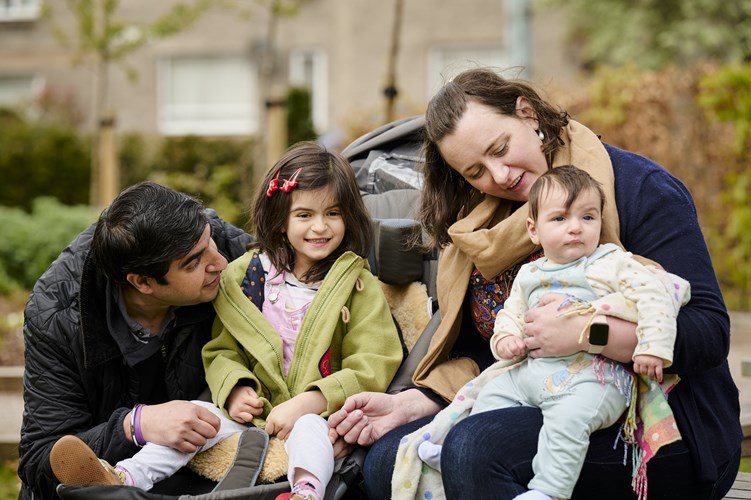 More information:
In 2021, the film about our experience as a family was a finalist in the Berlin Rare Diseases Film Festival: https://youtu.be/NCkLXY3LxYc
For further information on the condition, an earlier film called 'Human Timebomb' about the condition won the neuro film award: Human Timebombs - 5-minute version
To Contribute to the Just Giving page
(
Link
)